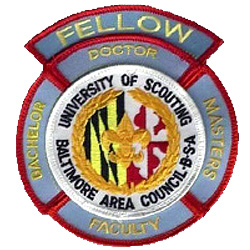 Cub Scout Leader Program
Level 100 Classes
Note: Any (7) course credit hours are the Bachelor level in Cub Scout Science Program,
any (7) additional course credit hours constitute the Master level in Cub Scout Science Program.
CSP 112
Cub Scout Den Leader – Tiger and Wolf
The Tiger and Wolf programs are the primary entry points into Cub Scouts. We will discuss the why of the Adventure program to hook new boys on Scouting and how to get your parents involved to become committed, involved leaders. (this class will NOT offer a Trained card)
CSP 113
Cub Scout Den Leader - Bears
Learn how the Bears Adventures will advance the skills of your youth as they prepare to become Webelos. We will discuss the why's of the Bear Adventure program as it takes boys outdoors and introduces more challenging opportunities to learn. (this class will NOT offer a Trained card)
CSP 114
Transitioning Your Webelos to Boy Scouts
The two-year Webelos program is designed to prepare Cub Scouts for leadership and responsibility to help them advance and succeed in Boy Scouts. We will discuss the Arrow of Light requirements that are designed to ensure boys will find a troop and to 'Be Prepared' to join a Boy Scout troop that meets their interests.
Lion Cubs for Kindergarteners – New!
Learn about the pilot Lion Den program for kindergarten boys that introduces them AND their parents to Scouting based on the 10 Purposes of Cub Scouting and Cub Scouting's Core Values. Come join the world of Mowgli as the Lions pilot is becoming a roaring success in Baltimore Area Council.
CSP 117
Cub Scouting in the Outdoors (2 sessions)
Does your Pack have "outing" in your Pack's Scouting program? Learn Cub Scout camping rules, how to use the Guide to Safe Scouting, why BALOO training for adults is essential, and using the Cub Scout Outdoor Activity Award to enhance your program. Learn why and how to keep your Cub Scouts engaged in the outdoors that makes Outing in Scouting program unique.
CSP 120 / CED 228
Outdoor Ethics for Cub Scouts and First Year Boy Scouts
BSA Outdoor Ethics is integral to Scouting. This course will provide Den and Pack Leaders an overview of the Leave No Trace Program for Cubs. Learn how the Leave No Trace Bigfoot's Playbook can be used with your outdoor program and advancement requirements for Scouts 6 to 13 years old. Found out how the 38 activities in this guide can help you to develop and incorporate Outdoor Ethics activities into your Pack and Troop outings.
Cub Scout Science Program
CSP 203
Duty to God
Take a close look at Ethics in Action, Character Connections and the Religious Emblems Program. These programs add an opportunity for Scouts to develop mentally and spiritually. Learn how the Cub Scout Adventures provides a stronger emphasis on our duty to God for all Scouts to explore faith development in their family.
CSP 207
Every Pack Deserves a Pack Trainer – New!
"Every Scout deserves a trained leader" and the Pack Trainer helps to guide its leaders towards training to increase leader effectiveness and ultimately, Scout retention. Learn how this key position will guide new families joining your Pack and help leaders and parents understand the purposes, policies, and procedures of the Cub Scouting program.
CSP 212
Mastering Cubmastering (3 sessions)
Feeling "in over your head" as a new Cubmaster? Or are you an experienced Cubmaster just wanting to learn proven techniques to lead your pack to greatness? Come join an experienced Cubmaster to take a deep dive into your role as "leader of the Pack" and learn how to make your Pack rock and roll. This program will discuss how Pack committees can successfully balance workloads of leaders and provide valuable information on running a pack, including: planning; proven in-school recruitment techniques, induction ceremonies, pack traditions, well-executed campouts, pinewood derbies, Blue & Golds, and working with parents.
CSP 211
Pack Budgeting
Perhaps budgets are not your strength. Learn how to create a Pack budget that will fuel your program to success. Learn about great sources of fundraising income then how to plan your Pack and Den programs to create and maintain a strong Cub Pack.
CSP 213
Using Your Den Chief
Who's a Cub Scout leader's best friend? It should be the Den Chief. Discover what a Den Chief is and how he can help YOU run an exciting den program. This trained Boy Scout role model plays a very important role on the leadership team and links his Boy Scout troop to your Pack to charge up every Cub Scout to join Boy Scouts.
CSP 218
Pack Annual Planning
Planning your pack program is the first step to a successful year of Cub Scouting. Learn how to effectively plan your program to maximize Scout retention and continue to grow your Pack with a fun program of learning for the Scout and his family.
CSP 215
Pack Committee Workshop (2 sessions)
Learn how an effective Pack Committee operates. You'll find out what the Pack Committee does - the administrative and organizational side of running a Cub Scout Pack. Topics such as membership, fundraising, and activities planning will be discussed. Learn proven methods to plan an effective, exciting YEAR-ROUND program.
Cub Scout Leader Program
Level 300 Classes
CSP 301
Successful Recruiting and Retaining Cub Scouts
A continuous flow of new Cub Scouts keeps your Pack alive and teaches families the enjoyment of Scouting. Learn how to maximize those recruitment materials and other techniques to attract and retain youth – a must for the health of every Pack!
CSP 302
Recruiting and Developing Adult Leaders
You've brought in the Cub Scouts, now more adult volunteers and leaders are needed. New adult members are the lifeblood of all healthy Packs. Learn how to recruit new Cub Scout leaders and turn them into enthusiastic Scouters like yourself who will follow their son into Boy Scouts.
CSP 304
Cub Scout STEM & NOVA
Come learn fun ways to incorporate STEM (Science, Technology, Engineering, Mathematics) activities into your den and pack program and learn about the BSA STEM awards: NOVA and Super NOVA. Learn about resources that are available to make your unit STEM program the best it can be.
This course will describe some of the things you can do to help Cubs of all abilities to Do THEIR Best to have fun, learn new skills, and help the pack go in your Cub Scout Program. Learn how to work with parents to better understand the strengths of their Cub and to adapt Cub Scout adventures to the special abilities of their scout. Learn how Cubs with different ABILITIES enhance the experience of the whole pack and can even teach the most seasoned leader a thing or two.
Awards to Make Your Program Excel – New!
Boys and adults love doing fun things and receiving recognition. Lord Baden Powell said 'Scouting is a game with a purpose.' Cub Scouting has many awards for Cubs and adults with requirements that will add fun to your program. Learn about these many awards and how to round out your program with
This page updated 12/4/2017