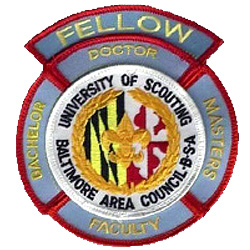 BSL 108
The Scoutmaster, Troop Organization and Membership
Learn about the qualities that should be expected of a Scoutmaster. Explore what the Scoutmaster should be, know and do. Learn the structure of the troop, including key boy leadership positions. Find out about a troops support functions and the responsibilities of adult leadership positions. Discuss the ways that creating new members is good for boys and scout troops.
BSL 109
Troop Meetings and Uniforming
Explore the real purpose of a Troop Meeting. Learn the value of using the troop meeting plan. Find out about the importance of having the boys plan, conduct and review the troop meeting. Find out about the vital role the Scoutmaster plays by providing coaching, support and leaderships to the scouts. Learn about the importance of the uniform as one of the Eight Methods of Scouting.
BSL 110
Working with Boy Leaders and the Patrol Leaders Council
Learn to establish an environment that is safe both physically and emotionally in which Scouts can learn, grow and enjoy Scouting to the fullest. Learn the purpose for and the importance of the patrol leaders' council. Explore the ways a Scoutmaster can support and guide the patrol leaders' council as the troop activities are planned.
BSL 111
Sizzle of the Outdoor Program and the Nuts and Bolts of the Outdoor Program
Learn the importance of the Outdoor program specifically that the Outdoors is the arena in which a lot of scouting unfolds. The Outdoor program is the reason that many youths and adults join the program. Skills and safety are the two main elements that the adult leadership of the troop are tasked with providing. Learn how this can be accomplished while still having a boy-led troop.
BSL 112
Outdoor Program Patrol and Reflection
Experience what it is like to plan an outdoor activity as a patrol. Learn what the considerations should be for safety when planning outdoor programs. How can a reflection help you reinforce the values of Scouting? How you can incorporate reflection into the outdoor experience.
BSL 113
Advancement Program and Paperwork
Are you familiar with the Four Steps of Advancement? Did you know that advancement was one of the Eight Methods of Scouting? Learn how advancement ties all Eight of the Methods of Scouting together? Explore what paperwork is necessary to manage a scout troop well.
BSL 114
Program Planning and Finances
Learn the ins and outs of planning a year long program and how to create a budget and earn the money to support the program. Learn new ways to get your scouts involved in the planning process. Explore how the planning process allows Troop members to connect their activities with the values of Scouting.
BSL 116A (2-sessions)
Scoutmasters - How To Shrink That Target On Your Back
NOTE: This Class is for registered Scoutmaster's Only – Must have the patch on the sleeve – No ASM, CC, MC, COR, etc. allowed) – The Scoutmaster job is a rewarding but tough one. There is always someone who knows better than you. Someone is always second guessing your plan for guiding your youth. In this forum-style class, we will discuss ways in which we can best deal with adversity in the adult ranks. How can we avoid/reduce conflict? How can we work with the ASMs, the CC/MCs and COR to make sure that the SM is properly supported and is able to best implement the Eight Methods of Scouting.
We will start with a scenario of conflict between the SM and another adult. The floor will then be opened for discussion/venting guided by the Instructor. Hopefully, ideas and recommendations that arise will aid SMs in ways to improve their methodologies.
--------------------------------------------------------------
BSL 201
Scouts' Interfaith Service
This session will include information on how to develop and deliver a Scouts' Interfaith Service.
BSL 202
Health and Safety
What is the Sweet Sixteen of Scouting? Learn how these principles should be applied in your unit.
BSL 203
Growth and Development of Boys
This session will explain the concept of stages of youth development. It will discuss how behavior is affected by developmental stage and help you realize the importance of developmentally appropriate activities at the various levels of the program.
BSL 204
Drug Awareness
Each year there are more deaths and disabilities from substance abuse than any other preventable cause. This session will provide drug education and help you understand the dangers of drug use and abuse.
BSL 205
High Adventure/Training Opportunities
High Adventure is the chance to experience something you may never experience again. Learn about the various opportunities that Boy Scouts provide. Learn also about the various training opportunities available to all scouters.
Case Studies / Hypotheticals on the Common Problems and Pitfalls of a Troop
Participants will discuss the common problems/pitfalls that Boy Scout units can face. They will then examine real life situations and discuss the appropriate solutions for the problems described.
Introduction to Leadership Skills for Troops
Troop Leaders who use Introduction to Leadership Skills for Troops (ILST) as part of their Youth Leadership development will present and discuss how they incorporate the program into their unit's annual program. ILST helps the youth leadership to develop their leadership skills.
STEM-tastic Scouting – Inspiration, Imagination and Innovation
This STEM (Science, Technology, Engineering, and Math) session is designed to help you, your unit, district of council integrate STEM programs and activities into your current programming. Whether your involved in Cub Scouting, Boy Scouting or Venturing, this course takes a fresh approach to open the STEM program to all Scouting youth. Discussions on how to implement, modify, and incorporated STEM programs through organized activities is the focus. Excitement, roadblocks, funding, recruitment, training, resources, and tracking are covered.
This class is about getting troops to come together and hold inter troop activities. Not many, if any, troops get together with another troop and go camping. This training class is to help get the idea out there and teach them how to work together and to eliminate the fears of working together with another troop.
Scoutbook 101 Boy Scout Troop Edition
In e arly 2015 the Boy Scouts of America announced the acquisition of Scoutbook.com (aka Scoutbook). Scoutbook is a web-based unit management, communication and advancement tracking tool. In this class we will explore the tool and show you how to use Scoutbook to manage your Pack. We will review how to manually enter new scouts, how to link to Scoutnet to import your charter information, how to track leader training, how to track Cub Scout advancements and upload those advancements to Scoutnet. We will show how to use Scoutbook to send email to unit members and how to use the built-in calendar. Scoutbook makes managing your Pack much easier - come learn how."
A new facet to the protection of our youth, BSA has established the "CyberChip" an annual electronic media certification for safe use of all social media by Scouts. This session will enable adults to teach the CyberChip certification to Boy Scouts and Venturing Scouts. CyberChip includes all social media (Internet, cell phones, gaming devices, etc.). CyberChip is required for several new Merit Badges, and starting 1/1/16, required for the Star rank. While completing the CyberChip, Scouts will learn benefits & dangers of social media, develop standards with their parents, Scout Leaders and/or Crew Advisors.
NYLT: What the course must BE and what leaders need to KNOW for their youth to DO Leadership Skills Training
National Youth Leadership Training (NYLT) has been descirbed as giving a life-long advantage to the Scouts who complete the course. This course - intended for adult leaders and parents of prospective course participants - is youth-led and explains the basics of - What is NYLT? as well as - What is its purpose? It covers how to determine if youth at this point in their Scouting career are ready to attend, and provides information that parents will want to know to help them support their youth. Topics of how the benefits participants receive from the skills gained from taking the course and how that can affect their lives outside of Scouting are also discussed.
CED 218
Eagle Scout Project Coach Training
This Course includes the training for the role of the Eagle Project Coach.
This page updated 12/4/2017