The Boy Scouts of America has been shaping the lives of our youth since 1910. A Friend of Scouting provides a vital portion of the financial support we need to teach Scouting principles that will result in a positive influence on character, citizenship, and personal fitness. The youth of today are America's future leaders. You can help shape that future by investing in Scouting today.
Scouting exists because of the volunteer and financial support provided by the community. Baltimore Area Council is funded by a variety of sources. This includes: direct contributions, events, annual popcorn sale, foundation grants, the United Way, and program/activity/camping fees. Learn more about Scouting costs and funding. With your support, Baltimore Area Council will bring the nation's highest quality Scouting programs to many more youth in our area.
Contribute
There are many ways to contribute to Scouting, including being a volunteer. Here are some ways to support Scouting financially:
In-Kind Product and Service Contributions
Direct gifts
Events
Have fun and support Scouting at the same time. Baltimore Area Council hosts a variety of fundraising events throughout the year including dinners, golf tournaments, and a pheasant hunt. This is a great way to introduce people you know to the impact Scouting makes on youth.
Popcorn Fundraiser
Scouting means "doing". To help packs, troops, and crews raise the necessary funds, Scouting encourages units and individuals to participate in the annual popcorn sale. This helps teach members the principle of paying their own way while also supporting council operations.
Endowment
Support Scouting forever. Gifts to endowment funds generate investment interest to continue supporting Scouting forever. Consider an endowment gift in your will or as recognition for an achievement. Be recognized as a James E. West fellow, 1910 Society, Founders Circle, Heritage or Millennium Society member.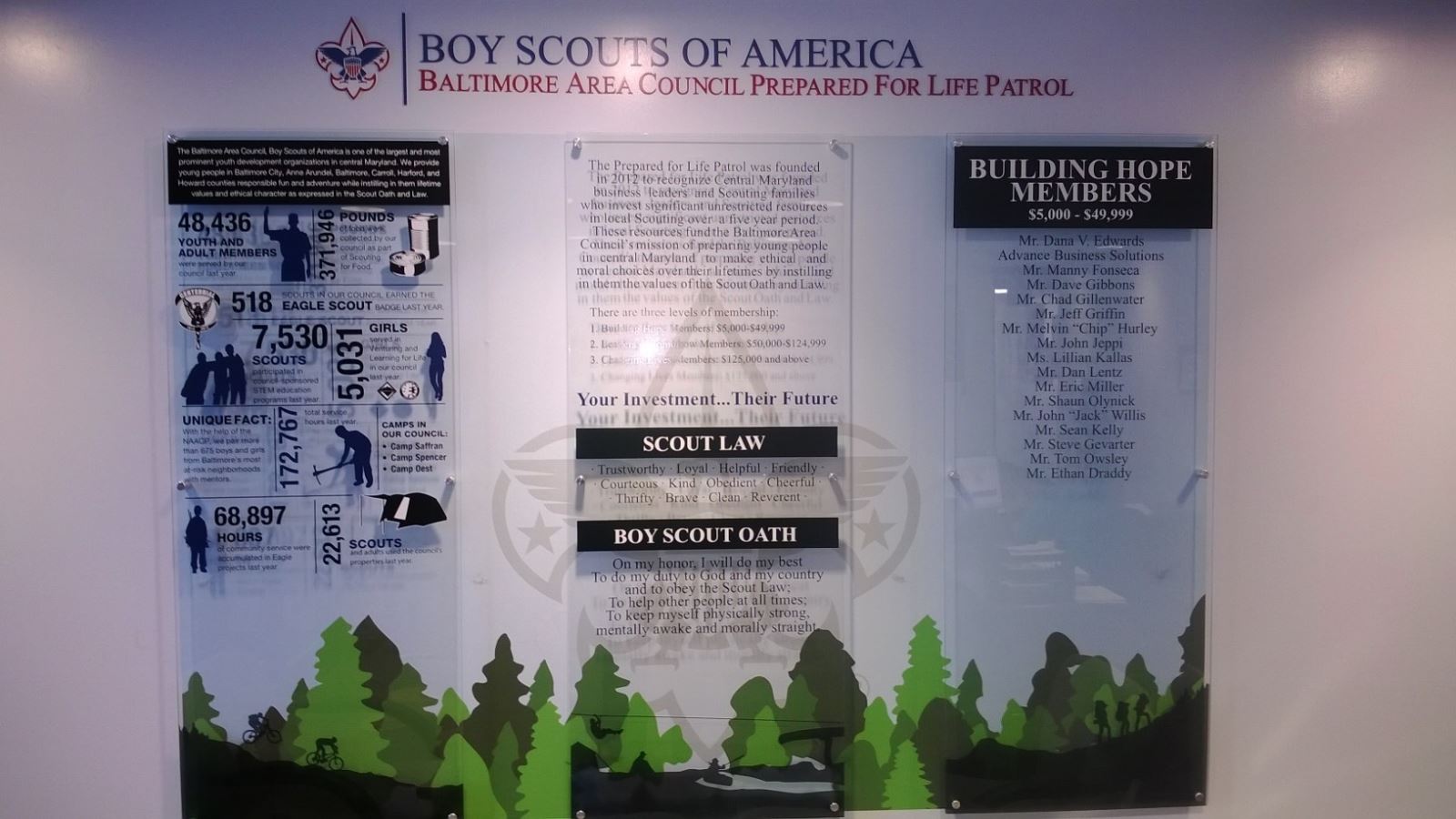 Prepared For Life Patrol Giving Society
To build a stronger foundation for expanding our programs and to provide a stable future for our Scouts, today we are launching a brand new partnership – the Prepared For Life Patrol Giving Society. Giving Society Patrol Member's will have an opportunity to join one of three giving levels while making a sustainable gift commitment over the next five years. As a Patrol Member you will be recognized on the Prepared For Life Patrol Giving Society wall located in the lobby of the Baltimore Area Council Schapiro Scout Service Center, invitations to attend special society events through out the year along with Friends of Scouting recognition items. Become a society member today by contacting our development office and help make a difference in the lives of young people.
Prepared For Life Patrol
Giving Society Levels
"Building Hope"

- Pledge $1,000 a year for five years to help Special Needs Scouts who require unique equipment to experience the Scouting program and building hope.

"Leaders of Tomorrow" - Pledge $10,000 a year for five years to support city Scouting from recruitment to

building exciting programs and developing new partnerships. This level will develop the leadership skills of a child.

"Changing Lives"

- Pledge $25,000 a year for five years to provide the necessary support to upgrade facilities and

programs at Broad Creek Scout Reservation. This level will provide the ideal experience for Scouts to build a foundation that will change the rest of their lives.