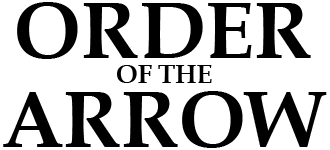 For over ninety years, the Order of the Arrow has been the Boy Scouts of America's Brotherhood of Cheerful Service. It is an organization of honored campers whose four-fold purpose is:
To recognize those Scouts and Scouters who best exemplify the Scout Oath and Law in their daily lives.
To develop and maintain camping traditions and growth.
To promote Scout camping as directed by the Council Camping Committee.
To crystallize the Scout habit of cheerfulness into a life purpose of leadership in cheerful service to others.
Order of the Arrow members are selected by their fellow Scouts during a unit election that is conducted by an election team representing the Chapter of the Lodge. Unit elections usually take place in the spring prior to summer camp; however, they can be held at summer camp. The Nentico Lodge Camp Chief may conduct an election for your Troop while at camp, providing at least 50% of the active Troop members are present and the unit is chartered in the Baltimore Area Council. Elected candidates will be recognized at a Call-Out ceremony on Friday evening following the closing campfire, which friends and family members are invited to attend. Units may have members that were elected prior to summer camp recognized during this ceremony by making arrangements upon arrival at camp. An opportunity is also provided for Nentico Lodge Ordeal members to seal their membership in the Order of the Arrow by becoming a Brotherhood member.
For Out-of-Council units, there is much value in having a candidate participate in a Call-Out at summer camp. If this is desired, a letter of authorization must be issued by the unit's home Lodge Chief. The unit must have held their election prior to attending camp. The unit leader must provide a copy of the valid election form and the letter of authorization to the Order of the Arrow representative at summer camp prior to the Call-Out ceremony. This paperwork must be completed if units wish to participate in the Call-Out ceremony. All invitations and Ordeal information should be provided by the unit's home Lodge.
During your week at camp, Nentico Lodge is proud to host an Ice Cream Social that is open to ALL Arrowmen. Here you will have a chance to meet with other Arrowmen from, not only Nentico Lodge, but from other Lodges as well. Arrowmen throughout camp are encouraged to attend this traditional event.
Visit the Arrowmen on the web at www.Nentico.org