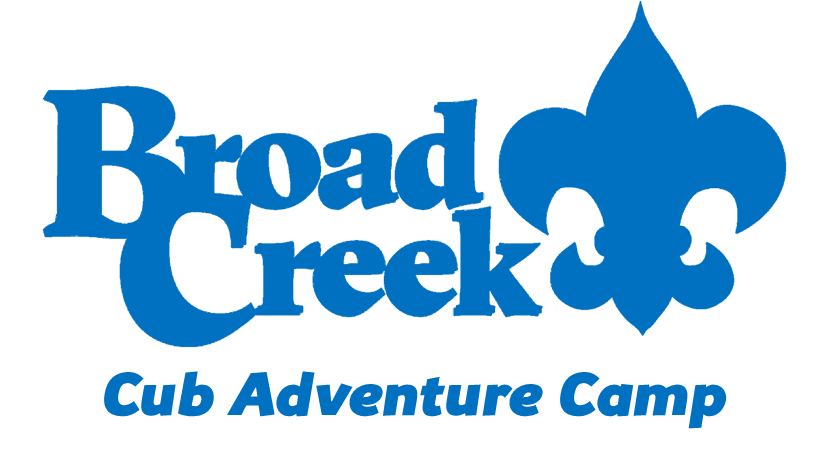 2022 Cub Scout Summer Camp Fees
Payment Schedule:
5% Non-Refundable Deposit Fee at the Time of Registration
June 1, 2022 - 15% by Early Bird Deadline
July 31, 2022 - Balance Due in Full
Fees below are Early Bird rates available until June 1st:
Description
2022 Fee

Youth - Cub Adventure Weekend

$190.00

*

Additional Sibling Cub - Cub Adventure Weekend

$165.00

Adult - Cub Adventure Weekend

$70.00

Youth - Webelos Week

$300.00

* Additional Sibling Cub - Webelos Week

$245.00

Adult - Webelos Week

$100.00
* Additional Cub Scouts from the same family as a Cub Scout already registered for camp may register for less.
Cub Adventure Camp Schedule
Click the Session or Date to Register
20% Discount Opportunity:
Attend more than one session at Broad Creek.
Please contact Camping Services at campingservices@baltimorebsa.org to apply the discount.
2022 Summer Camp Documents:

2021 Leader Guide (updated guide TBA)

Campership Application - closed

All Out-of-Council Packs attending




Broad Creek Memorial Scout Reservation




for summer camp

MUST provide proof of
your Council's Liability Insurance or a


Certificate of Insurance.
Broad Creek Cancellation Policy
5% Non Refundable Deposit Fee is required at the time of registration.
This is a non-refundable fee to secure your campsite and will be applied to your final invoice.
Up until June 1, 2022 (Early Bird Fee Deadline) there are no penalties for canceling or adjusting your or your unit's registration for Cub Adventure Camp.
Any reductions in attendance or cancellations done between June 2, 2022 and July 31, 2022 will result in 15% of the regular registration fee taken out of the refund or applied to the balance due.
Cancellations or reductions in attendance from August 1, 2022 on will result in no refunds.
This will be waived if the participant has a letter/note from a doctor or documented family emergency which keeps the Scout from attending camp.
This documentation is due no later than August 20, 2022 to receive payment.
If you have any Questions contact Camping Services at campingservices@baltimorebsa.org or 443-573-2523