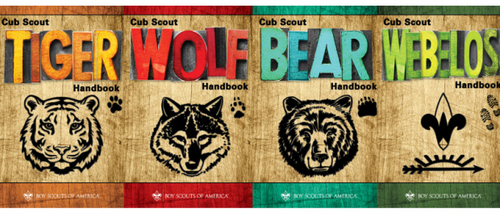 Cub Scout Handbooks: Tiger (1st grade), Wolf (2nd grade), Bear (3rd grade), Webelos (4th & 5th grade).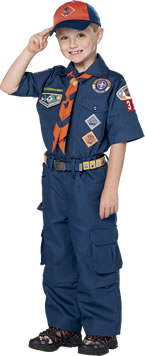 Welcome to the Boy Scouts of America!
You've just joined the nation's foremost character development organization for youth!
The next step is to help you and your boy connect with Scouts near you. Our staff is now contacting the local leaders on your behalf. If you are not contacted by a Scout leader within a few days, please call the Baltimore Area Council office at 443-573-2500. In fact, just call us anytime you have questions about Scouts, handbooks, uniforms or other getting-started questions. Many answers are here:

Cub Scout Parent Information Guide (pdf) (Grades 1-5)
New Cub Scout Parent Info website for new parents
If you paid membership fees, your boy is officially a Scout and can start working on his book.
Scout Handbooks: Here are the details for our local Scout Shops if you chose to pick yours up a Shop:

The Baltimore Scout Shop in Baltimore City
800 Wyman Park Drive
Baltimore, MD 21211
410-338-0144
Hours
Monday, Tuesday, Wednesday and Friday: 10 AM - 6 PM
Thursday: 10 AM - 7 PM
Saturday: 10 AM - 4 PM

The Dorsey Road Scout Shop in Anne Arundel County
7502 Connelley Drive, Suite 120
Hanover, MD 21076
410-553-6913
Hours
Monday, Tuesday, Thursday and Friday: 9 AM - 5:30 PM
Wednesday: 9 AM - 7 PM
Saturday: 10 AM - 3 PM

The Bel Air Scout Shop in Harford County
5 Bel Air South Parkway, Suite J1009
Bel Air, MD 21015
410-569-2714
Hours
Monday, Tuesday, Thursday and Friday: 10 AM - 6:30 PM
Wednesday: 10 AM - 7 PM
Saturday: 10 AM - 3 PM

Boys' Life Magazine: Please allow 4-6 weeks for the first Boys' Life magazine to arrive.

If you didn't subscribe to Boys' Life magazine check it out at BoysLife.org. It brings Scouting into your home 24/7.
Safety is our top priority. Please read How to Protect Your Children From Child Abuse (pdf)