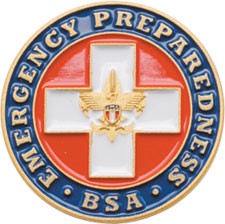 2018 BAC Camporee

Old Colony Cove Farm, 831 Fairhaven Rd. Tracy's Landing, MD 20779

May 4th to May 6th 2018

"Are You Prepared? We are!"

We believe being prepared for emergencies is the best course of action.
We believe Scouts have the fundamental knowledge to not only endure emergencies but to provide assistance to others.

The 2018 Camporee will be the forum to reinforce existing scouting skills and teach the scouts new ones so the scout skills can be applied on a larger scale.

All training will be approved for youth or by the BSA.

Eagle Scouts, Ventures, OA Members and qualified adults as mentors are encouraged to be on staff in support of the 2018 Camporee.
The take away, for not only the Scouts but also the adult leaders, will be the BSA Emergency Preparedness Award - Pictured above.
!!! This is NOT the same as the Emergency Preparedness Merit badge !!!
Informational Links
Emergency Preparedness Award Information
https://meritbadge.org/wiki/index.php/Emergency_Preparedness_Award
Camporee Program information: 2018 Camporee Program Information

Leaders Guide: 2018 Camporee Leaders Guide
Program Stations: 2018 Camporee Stations
Logistics (Who, what, status): 2018 Camporee Logistics
Added 4/8/18 - Camporee Weekend Schedule
Added 4/8/18 - Camporee Rotation Schedule
As we continue with planning this web page will be updated

Camp Director: Denise Boebert (Troop 91). dboebert@comcast.net
Camp Logistics: Tim Watson (Troop 758). Tawscout@gmail.com
Last updated: 2017-11-01