Scouting For Food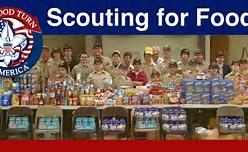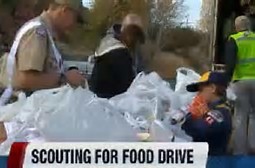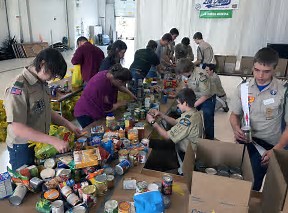 The 2020 Scouting for Food drive will now happen via a Front Yard Food Drive.
Front Yard Food Drive Instructions and Guidance:
A Front Yard Food Drive is a safe, contact-less food drive which should be organized as a unit, but done separately while following state and federal guidelines.
Here's how it works:
With your Pack or Troop, contact your normally supported food bank or pantry to determine their needs and establish a contact-less delivery.

With your Pack or Troop, designate a time period during which you want to hold your food drive (a day, a couple of days, a weekend, a week; you pick).

Designate drop-off points. These should be in the front yards of Pack or Troop members who would be willing to be a drop-off point.

Be sure to follow social distancing rules.

Drop-off points will need to be coordinated within your Pack or Troop.
Promote the food drive within your unit and neighborhood. Use your Scouting For Food sidewalk signs if you have some. Please ensure you follow community rules (e.g. HOA guidelines) for communication/signs.

Print signs and secure it to a big, sturdy container (may also want to have a cover in case of rain).

On the sign, please write in big, bold letters the date(s) you will be performing your Front Yard Food Drive.

Place a container in the designated front yards. Do not stand by the container to receive donations.

The idea is for a safe, contact-less activity.

Adults, using safe

practices, should empty the bin regularly and keep the food dry. Count the number of items you've received.

Please ensure you are using

safe practices

to collect the food from the container.

Contact your designated food bank or for a

contact-less

drop off.
Please note that this activity is intended to be done by individuals and not in a group (e.g. Troop, Pack). We must maintain social distancing and follow the issued state and federal guidelines.
Important Documents:
For any questions, please email Robert Lepito at rjlepito@aol.com