Welcome to the 4Rivers District
We serve over 90 Packs, Troops, Ships, and Crews in Northern Anne Arundel County, Maryland, bounded by 4 Rivers: the Severn, the Magothy, the Patapsco, and the Patuxent. We are dedicated to supporting our units with programs designed for fun and advancement opportunities, training offered at Roundtables and leadership specific courses, and service through the Commissioner Corps.
The Scout Oath and Law are the foundation of our programs which build character, develop leadership skills, and train youth in the responsibilities of citizenship and service.
2018 Four Rivers District
Business Meeting Notice
Monday May 7, 2018
All District Members-At-Large and Chartered Organization Representatives are strongly encouraged to attend the Four Rivers District business meeting.
Where: Glen Burnie United Methodist Church, Crain Hwy and 2nd Ave., Glen Burnie, MD.
Date: Monday May 7, 2018
Time: Starting promptly at 7:30PM.
We will be electing new District Officers and Members-At-Large so your participation is very important. Changes to the District Committee structure will also be announced. Please contact Doug Sweely at hds@ieee.org if you have any questions.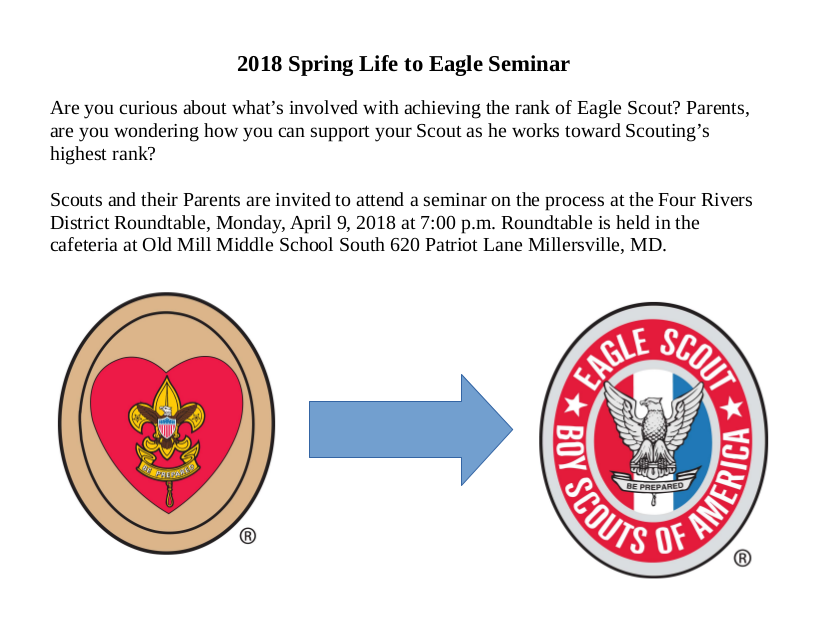 2018 Four Rivers District Film Contest for Scouts
4R is announcing a short film contest for current Webelos and Boy Scouts to help jump start our Press Corps! A side benefit is that Scouts may use this work on their Webelos Movie Maker Activity Pin and Boy Scouts may be interested in pursuing the Movie Making merit badge!
We will publish the winning videos on our You Tube channel and the District Facebook page.
Submission deadline is May 1, 2018 and the winning selections will be announced at the May Roundtable on May 14, 2018. The Winning Submissions will be shown at the June District Awards Dinner on June 4, 2018.
For more information, click on this link.
The 2017 winning video promoting scouting from our first District Film Contest came from Crew 346. Enjoy!
Len Morgan, District Chairman
Steven Wolfe, District Commissioner
Joshua Whitehead, District Executive