** LATEST LODGE NEWS & UPDATES **

Lodge Leadership Development (LLD) 2018

Saturday, December 1, 2018 Arrival/Check In:

7:30am -

Program begins at

8am promptly

Jewish Community Center

3506 Gwynnbrook Ave., Owings Mills MD

REGISTER HERE Note: Location may change - If so, an email will be sent to all registered

Cost for the event is $7.00, includes Continental Breakfast and Lunch.
Registration closes on November 28th - there will be no Late Fee

Check out the September edition of the

MONTHLY CHAPTER MEETINGS...

Catonsville United Methodist Church, Catonsville

Sykesville Fire Dept., Sykesville

Chesapeake Chapter

2nd Wednesday 7:30pm

Zion United Church of Christ, Essex

Havenwood Presbyterian Church, Lutherville-Timonium

Old Mill Middle School South, Millersville

Church of Jesus Christ of Latter Day Saints, Abingdon

Columbia Academy Elementary

10350 Old Columbia Rd., Columbia

Riva Trace Baptist Church (with RT), Davidsonville, MD

REQUEST for an OUT OF COUNCIL CALL OUT

Please check HERE to access the Request Form and fill in ALL information.

**NOTE:

All Letters will be sent out as soon as Camps are open to receive them!**

This form needs to be submitted at least 2 weeks prior to the start of camp!

Letters for Approval of the Out of Council Call Out will be sent to the Camp Chief or

Director of the Camp indicated on the Request Form - a copy of the letter and

accompanying documents will be also sent to the Scoutmaster for their records.
Scouting's National Honor Society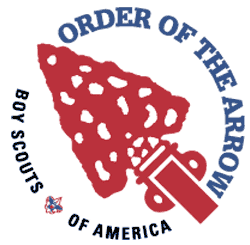 MISSION AND PURPOSE OF THE ORDER OF THE ARROW
For 100 years, the Order of the Arrow (OA) has recognized Scouts and Scouters who best exemplify the Scout Oath and Law in their daily lives. This recognition provides encouragement for others to live these ideals as well. Arrowmen are know for maintaining camping traditions and spirit, promoting year-round and long term resident camping, and providing cheerful service to others. OA service, activities, adventures, and training for youth and adults are models of quality leadership development and programming that enrich and help to extend Scouting to America's youth.
The mission of the Order of the Arrow is to fulfill its purpose as an integral part of the Boy Scouts of America through positive youth leadership under the guidance of selected capable adults.
As Scouting's National Honor Society, our purpose is to:
Recognize those who best exemplify the Scout Oath and Law in their daily lives and through that recognition cause others to conduct themselves in a way that warrants similar recognition.

Promote camping, responsible outdoor adventure, and environmental stewardship as essential components of every Scout's experience, in the unit, year-round, and in summer camp.

Develop leaders with the willingness, character, spirit and ability to advance the activities of their units, our Brotherhood, Scouting, and ultimately our nation.

Crystallize the Scout habit of h

elpfulness into a life purpose of leadership in cheerful service to others.